What You Should Know About Retina Decoration
Special Karşıyaka Eye Hospital Ophthalmology Specialist Assoc. Dr. Göktuğ Seymenoğlu retinal detachments may progress to blindness, he said. Stating that the retina covers the inner surface of the eyeball as a paper, Assoc. Dr. Göktuğ Seymenoğlu, a network of visual cells, a network layer that occurs in the retina diseases, directly affect the level of vision, he said. Noting that many diseases can occur in the retina Assoc. Dr. Göktuğ Seymenoğlu, "Symptoms such as sudden vision loss, fracture, curved or distorted vision, light, lightning flashes, blinding to the eye, drop in the eye, temporary and short-term vision loss and dark areas in the visual field may indicate a problem in the retina.Retinal detachment develops as the retinal layer (mesh) covering the inner face of the eyeball is separated from the outer layers of the eye. This separation is caused by tears in the retina. Retinal tears can be seen mostly in myopia patients, after penetrating-cutting eye injuries and after cataract surgery. It may occur at any age, although it is more than middle age and older.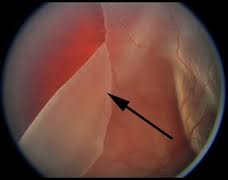 Can progress to blindness
Asserting that retinal detachment is a disease that can progress to blindness if it is not intervened correctly and in time. Dr. Göktuğ Seymenoğlu said, ası Separation of the retina from the adherent layer will disrupt the feeding of the visual cells on this layer and result in the death of these cells. The progression of retinal detachment to the macula (yellow dot) causes loss of central vision. If the retina is not successfully interrupted, the visual cells on the retina die and irreversible loss of vision occurs due to the loss of time. "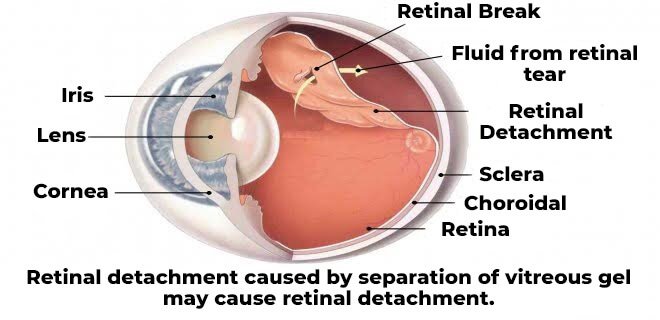 External Treatment with Precipitation
If there is only a retinal tear before retinal detachment develops, this is usually treated with laser, sometimes cryotherapy (freeze treatment) Assoc. Dr. Göktuğ Seymenoğlu, "The aim is to tear the tear before it causes detachment. If retinal detachment has developed, surgical intervention is necessary. Scleral Buckling Method To attach the retina to the décollet, a tape made of silicone is wound around the eye to coincide with the retinal tear. The tear in the retina is then sealed by laser or cryotherapy. The fluid accumulated under the retina can also be drained through a small incision made from the sclera. Although the tape is left around the eye, it does not cause pain and is not visible from the outside.